Locals and visitors from every corner of the world, are encouraged to go and experience these rare, unique places all less than an hour from each other on the picturesque Route 26 in Western Maine. Route 26 connects Western Maine to the rest of the State via Maine Turnpike's exit 63 in Gray. Though a state highway, the road meanders through gorgeous countryside and boasts culturally, historically, and ecologically significant attractions. Just thirty minutes north of Portland, a family can spend a day or several days visiting these destinations for very little money – a true value!
MAINE WILDLIFE PARK, Gray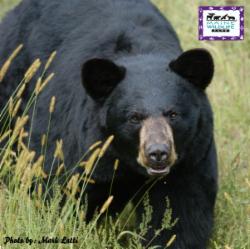 Home to over thirty species of native wildlife. Walk nature trails. Tour expansive gardens. Enjoy the snack shack, gift shop, picnic area and more. Guaranteed to see a moose! The Park serves as a permanent home for wildlife that cannot survive in the wild and are here for their protection and healing.
Open daily, 9:30am-4:30pm,
mid-April - Nov.
(207) 657-4977 ext. 0
mainewildlifepark.com
SABBATHDAY LAKE SHAKER VILLAGE, New Gloucester

Located within the perimeters of the only active and functioning Shaker Community in the world, the museum buildings encompass twenty-seven exhibit rooms which explore over 200 years of Shaker history. Daily tours provide valuable insights into Maine Shaker heritage and culture of the past and present. Gift Shop. Open Monday through Saturday, 10:00am–4:30pm, Memorial Day to Columbus Day. (207) 926-4597 www.maineshakers.com
POLAND SPRING RESORT,

Poland Spring

Poland Spring Resort spans over 500 acres with an award winning Donald Ross-designed golf course (the oldest golf course at a resort in the United States), 3 inns and 11 cottages. The resort offers numerous recreational and entertainment activities, water access, vacation and wedding packages, dining and room accommodations to suit any budget. Open every weekend, Memorial Day to Columbus Day; Open daily, in summer. Some lodging available year-round. (800) 581-5171 • www.polandspringresort.com
POLAND SPRING MUSEUMS, Poland Spring
The Maine State Building (originally located in Chicago at the 1893 World's Fair) - Museum, art gallery, chapel and gift shop are housed in two buildings listed on the National Registry of Historic Places, and All Souls Chapel. Museum tours that focus on the history of Poland Spring, highlighting the Victorian and Gilded ages. Also home to the Maine Golf Hall of Fame exhibits. Located on the grounds of Poland Spring Resort. Chapel also available for weddings. Open Thursday–Saturday, 9:00 am - 4:00pm, Memorial Day to Columbus Day. (207) 998-4142 • www.polandspringmuseums.org
The Poland Spring Bottling Museum - In the early 1900's a state of the art water bottling facility and springhouse were constructed at Poland Spring. Used for over seven decades, today this property is known as Preservation Park, home to over four miles of recreational trails and the Poland Spring Museum. Tour the former bottling facility and discover the rich history behind Poland Spring Water. Museum also available for special events. Open Thursday–Saturday, 9:00am-4:00pm, Memorial Day to Columbus Day. (207) 998-7143 • www.polandspring.com
McLAUGHLIN GARDEN & HOMESTEAD

,

South Paris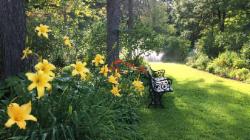 The garden features mature collections of hosta, daylilies, astibes, phlox, sedum, cimicifuga, sempervivums, Maine wildflowers and ferns. In addition there are are over 200 lilacs - all beneath a canopy of mature deciduous and coniferous trees. Vistors are also encouraged to explore the historic home and barn built in 1840. This is Maine's first NATIONAL CULTURAL LANDSCAPE. Come and enjoy the serenity of the treasure. Garden, Homestead & Gift Shop: Open daily, May to October; See website for gift shop winter hours; Check website for latest updates. (207) 743-8820. www.mclaughlingarden.org
Also along the way, please stop in and see our associate members!
CYNDI'S DOCKSIDE RESTAURANT, Poland Spring
Take in the fresh air and water views at our lakeside dining or inside in our pavilion or pub seating. Fresh Maine lobster and seafood, salads, sandwiches, and your favorite beveragesPlease visit our website or Facebook page for more information on specials and activities. (207) 998-5008 http://www.dockside.me
POLAND HISTORICAL SCHOOL HOUSE, Poland
The Old Poland Corner Schoolhouse is the home of the Poland Historical Society. Established in 1995, the Society's mission is to collect and preserve historical materials that reflect the history of the Poland from inception to the present. Please come in to say hello, view our exhibits and the schoolhouse. Summer hours: Open every Thursday afternoon 1:00 pm to 4:00 pm through June, July and August or by appointment. www.polandtownoffice.org
Our sponsor OXFORD CASINO, Oxford

The Oxford Casino includes a 30,281 square foot, single level, gaming floor with more than 850 Class III slot machines and 26 table games. It also hosts Oxford Grill, a 140 seat casual restaurant, Oxford Express, a grab-and-go restaurant, and a 12 seat, video poker bar. Further information can be found at www.oxfordcasino.com.