Looking for a place to take your group that offers more than other trips you have been on? The Gems of Route 26 can offer your group a full experience...where they can learn and discover more about animals, history and beauty all in one day. We would be pleased to host your group either for the day or for a longer stay.
At each location we will have guided tours for your group with advance notice. Each location takes about an hour to enjoy.
Shopping is available at Shaker Village... your guests can buy homegrown herbs and teas. Lovely crafts and more. The Maine State Building has a gift shop with handmade gifts from local craftsman and more. The McLaughlin Garden and Homestead has a large gift shop with beautiful items for the special person in your life.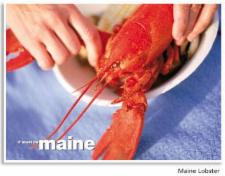 Meal options: Box lunches to enjoy on the bus or on the lawns. Call the Poland Spring Resort at (207) 998-4351 to make arrangements.
Cyndi's Dockside on Middle Range Pond at the Route 26 causeway. Seating lakeside at picnic tables or inside. Specializing in Lobster in the rough. We have the most friendly staff this side of the Mason Dixon line with a warm and inviting environment. The menu includes delicious appetizers, sandwiches, burgers, Maine lobster, seafood dinners, chicken, steak and our over the top desserts. (207) 998-5008 ~ www.dockside.me.
Reservations for large groups are requested. Please call the Poland Spring Resort at 207-998-4351 and ask for Cyndi Robbins. Cyndi will arrange your itinerary including any meals if needed. Free Parking in all locations.